Essential Guide
Citrix Synergy 2014 conference coverage
A comprehensive collection of articles, videos and more, hand-picked by our editors
Citrix XenMobile
Citrix XenMobile is mobile management software that provides mobile device management (MDM), mobile application management (MAM) and cloud file-sharing capabilities.
FROM THE ESSENTIAL GUIDE:
Citrix XenMobile is an enterprise mobility management (EMM) software suite that provides administrators with mobile device management (MDM), mobile application management (MAM) and online file-sharing capabilities.
A Comprehensive Roadmap to BYOD Governance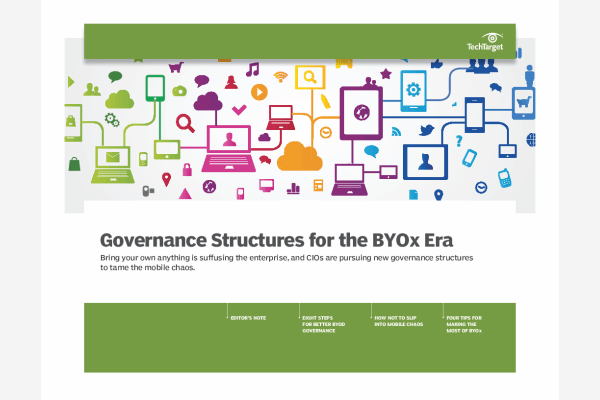 Establishing a long-term plan for maintaining control of IT and end-users is critical in today's evolving workplace. This comprehensive guide details the steps necessary for establishing and maintaining safe and effective mobile BYOD practices - from the procurement-stage through to policy and governance.
By submitting your personal information, you agree to receive emails regarding relevant products and special offers from TechTarget and its partners. You also agree that your personal information may be transferred and processed in the United States, and that you have read and agree to the Terms of Use and the Privacy Policy.

The centerpiece of Citrix XenMobile is Worx, a line of managed mobile applications. Citrix offers Worx apps for secure email access, Web browsing and file sharing; more significantly, third-party developers can make Worx-enabled versions of their apps by adding one line of code to the software. IT administrators can make Worx apps -- as well as approved Windows and SaaS apps -- available to users through XenMobile's enterprise app store.
The MDM features in XenMobile come from Zenprise, a vendor Citrix acquired in 2012. The MAM features supplant those in CloudGateway, a standalone MAM product Citrix discontinued upon the May 2013 launch of XenMobile. The file-sharing component comes from Citrix's ShareFile product.
Citrix XenMobile's mobile management software is available in three editions: MDM-only, MAM-only and a version that offers all features.
Continue Reading About Citrix XenMobile
PRO+
Content
Find more PRO+ content and other member only offers, here.