Google Android 4.4 KitKat
Android 4.4 KitKat is a version of Google's operating system (OS) for smartphones and tablets.
Looking for something else?
Android 4.4 KitKat is a version of Google's operating system (OS) for smartphones and tablets.
A Comprehensive Roadmap to BYOD Governance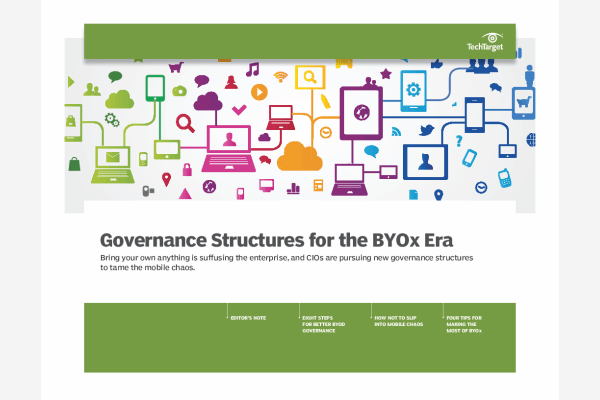 Establishing a long-term plan for maintaining control of IT and end-users is critical in today's evolving workplace. This comprehensive guide details the steps necessary for establishing and maintaining safe and effective mobile BYOD practices - from the procurement-stage through to policy and governance.
By submitting your personal information, you agree to receive emails regarding relevant products and special offers from TechTarget and its partners. You also agree that your personal information may be transferred and processed in the United States, and that you have read and agree to the Terms of Use and the Privacy Policy.

The Android 4.4 KitKat operating system uses advanced memory optimization technologies. As a result, it is available on Android devices with as little as 512 MB of RAM. This is important because previous versions of the operating system required more internal memory which made them incompatible with many older device models. This was a major cause of the problem known as Android fragmentation.
Android 4.4 KitKat features a cleaner user interface, Near Field Communication (NFC) support and always-on touch screen action buttons, which replace the need for the physical buttons found on many Android devices. KitKat also boasts an improved security-enhanced Linux module, which helps prevent unauthorized app access.
Google announced Android 4.4 KitKat in September 2013 and debuted it on the Nexus 5 smartphone the following month. For months prior to the release, observers expected the OS to be called Key Lime Pie, but Google renamed it as part of a marketing promotion with the Hershey Company, which sells a candy bar called Kit Kat in the United States.
Continue Reading About Google Android 4.4 KitKat
Dig Deeper on Android operating system and Chrome OS
PRO+
Content
Find more PRO+ content and other member only offers, here.